The taste buds at different parts of the tongue will taste one taste sensation better than the other tastes. The sides of the tongue recognise salty and sour things best, while the front of the tongue recognises sweet things best. Bitter food is tasted at the back of the tongue. Most foods are a mixture of all the different tastes.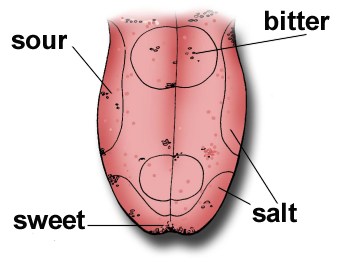 When we have a bad cold, our food may not taste very good because our taste buds do not work properly. Our sense of taste works with our sense of smell. If our nose is blocked up from a cold, we can't smell very well. If we can't smell something, we can't taste it very well.

covered with little spots: Examine a friend's tongue with a magnifying glass to look at his or her taste buds. You should see little white dots around the edge of the tongue. Identify the different taste buds for the four taste sensations.

salty: Foods that taste salty are salted potato chips, pretzels, beef jerky, and anything that salt has been added to.