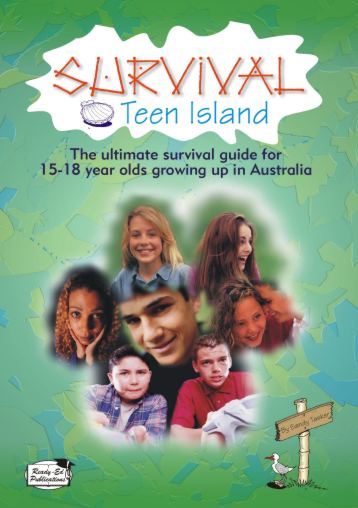 Author: Sandy Tasker
ISBN: 186397 0603-5
Includes:
A wealth of relevant websites and useful phone numbers for both general information and crisis situations.

Contact details for all states and territories

.

See the press release for more details.
Pricing:
| Description | Pages | Price |
| --- | --- | --- |
| (AUS) REP 070 | 116 | $24.95 |
| (NZ) REP 070 | 116 | $39.95 |
*With Postage and Handling:
$26.95 (Aust), $41.95 NZ
This teenage survival manual aims to equip the typical teenager with everything he or she will need to make it in the real world. Its humorous approach will keep teenagers on their toes and open their eyes to some of the pressing issues that most teenagers face in the increasingly awkward journey towards adulthood.
Set against the backdrop of survival on fictitious Teen Island, sections focus on:
School Survival


Job Search and Money Skills:
Ideas for part-time employment while studying, applying for jobs, writing resumes, preparing for job interviews;
Useful strategies for managing income; including opening bank accounts, budgeting and managing credit cards;


Social Skills:
Useful tips for communicating via e-mail, telephone and through forms;
Discusses essential computer skills, key driving pointers and map-reading techniques;

Around the Home:
Covers everything they will need to know about looking after themselves when home alone, with cool ideas about shopping, cooking, keeping the house secure, doing the laundry, and tips for babysitting.

Serious Stuff:
A very useful section with almost everything they need to know about hot issues such as bullying, stress, drugs and alcohol, eating disorders, teenage pregnancy, sex education and sexuality;

There is even a section to show how to cope with the School Ball and Schoolies' Week!